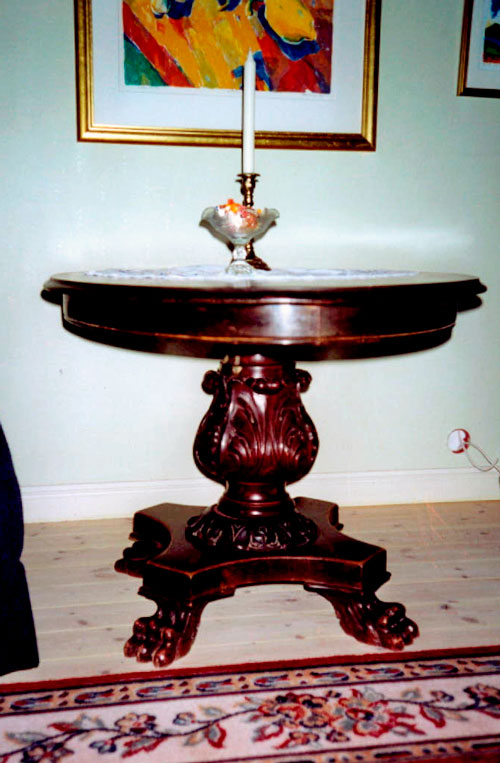 Hei.
Dette bordet har jeg arvet etter mine besteforeldre og det har derfor veldig stor verdi for meg. Kan du si mer om hvor gammelt det kan være, stil osv.
Med vennlig hilsen Elisabeth Helmersen
Hei igjen, og takk for henvendelsen!
Bordet ditt er et godt eksempel på den sene empirestilen, i overgangen mot biedermeierstilen. Ut fra fotografiet er jeg usikker på hvilket treslag det kan være, disse bordene er typisk i mahogni, men i Skandinavia ble mørkbeiset bjerk ofte brukt. Den "firpass" formen på sokkelplaten, dyreføttene under, og den kraftige, balusterformede søylefoten med skåren bladdekor er typisk. Jeg klarer heller ikke helt å se om platen er rund eller oval, men begge deler er vanlig på disse bordene. Til syvende og sist ville nok dette blitt kalt "biedermeier" i en auksjonskatalog, selv om "senempire" kan være like riktig. I Sverige ville det gjerne blitt kalt "Karl Johan", og i Danmark "Christian 8.", etter tidens konger.
Denne typen bord kom først på moten i årene rundt 1830, men de var svært populære utover hele 1800-tallet, og ble typisk brukt sammen med det som da het "salongmøblementer", og typisk består av en sofa, to stoler med armlener og to eller fire stoler uten armlener. Stolene var som regel av en type og form som gjør at de i dag brukes som spisestuestoler. Ofte ble disse møblementene brukt i hjem med liten plass, slik at de gjorde tjeneste både som spisestue og salong. Derfor har disse bordene av og til uttrekkbare plater som gir rom for ileggsplater, slik at alle stolene får plass rundt.
Ditt bord er ikke lett å tidfeste nøyaktig, men "midten av 1800-tallet" eller "1800-tallets siste halvdel" hadde nok vært det typiske i en auksjonskatalog. Den vanlige auksjonsvurderingen på denne typen bord er 4-6.000 kroner, jeg kan tenke med at ditt ligger så vidt høyere, på grunn av det fine treskjærerarbeidet på dyreføttene og søylefoten.
Med vennlig hilsen
Trond l. Schøning